Upcoming Events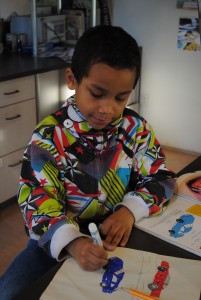 Jubilee Arts Summer Classes
Winter classes will run June 19 to August 4, 2017. All youth classes are $3 a class or $21 for the full 7 week session and adult classes are $6 a class or $42 for the full 7 week session.
Space is limited, please complete a registration form before class start date to reserve your spot. Please note, attendance in each class is required, more than two unexcused absences will jeopardize your spot in the class.
2017 Schedule: Fall class: October 2 to December 15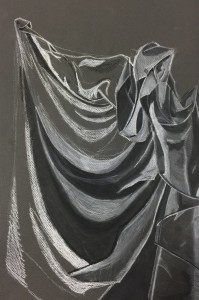 Current Exhibition
Portfolio Drawing Class Show
Collection of artwork from the portfolio drawing class.
On View: May 1-30
Opening Reception: Friday, May 5
6-8pm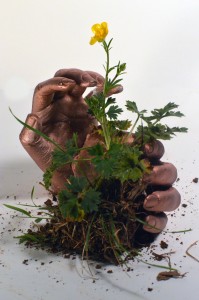 June Exhibition:
Arielle Rodgers, Alter Ego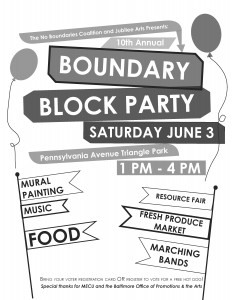 Boundary Block Party
Saturday, June 3 1-4p
Pennsylvania Avenue Triangle Park
No Boundaries Coalition and Jubilee Arts Baltimore the 10th annual BOUNDARY BLOCK PARTY–Bringing residents together in central west Baltimore across boundaries of race and class and neighborhoods to celebrate the strengths of our community!
#BBParty
Live Entertainment with:
Twilighters Marching Band
Brown Memorial Choir, Souful Sisters
Dynamic Force
More to be announced!
Plus…
Free Hot Dog with voter registration or voter ID card
Fresh Produce for Sale!!!
Community Resource Fair
Art Activities for Families
FOOD!!!
Jubilee Arts is a community program providing arts classes to the residents of the Sandtown-Winchester, Upton, and surrounding neighborhoods in Baltimore, Maryland. Jubilee Arts is located on Pennsylvania Avenue, an area with a rich history of African-American culture, and is helping to bring the arts back to life in our community!
The No Boundaries Coalition is a resident-led advocacy group building a unified and empowered Central West Baltimore across the boundaries of race, class and neighborhoods. This effort started with the first Boundary Block Party in 2008. The No Boundaries Coalition mobilizes residents to work on community-wide issues and is currently advocating for food justice and public safety.