Art @ Work
ART @ WORK  2017: Reservoir Hill + The Waverlies 
The Art @ Work program was launched the summer of 2015 through a partnership between Jubilee Arts and The Baltimore Office of Promotion & The Arts. Art @Work is a 5-week artist apprenticeship program employing Baltimore City youth enrolled in Youth Works program to create murals in their communities. By weaving together design thinking, workforce development, economic development, community organizing, and creative expression, Art @ Work has empowered hundreds of youth ages 14-21 to contribute to their neighborhoods through art.
In 2017, the Art @ Work program was located in both the Waverly and Reservoir Hill neighborhoods and created 85 youth jobs, employed 16 professional artists and artist assistants, and engaged over 40 local, state, and national partners, while generating eight new public artworks.
 In addition to working alongside professional artists to create murals in their community, youth from the two respective neighborhoods participated in professional development and skill-building workshops led by Baltimore CASH Campaign, Dew More Baltimore, HIBRED Workforce Solutions, No Boundaries Coalition and Mia Musa.
About the 2017 Murals: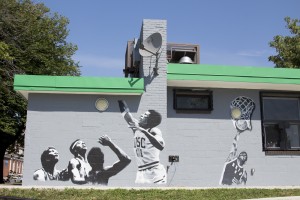 Lead Artist: Ernest Shaw
Artist Assistant: Dalvin Wade Byron
Youth Artist Apprentices:
James, Yvette, Kaliyah, Deasha, Khaynesa, Tykeria, Alexis, Deshawn, Ja'Nel, Tracey, Carlos
Mural Title: Harrison Sykes Brown Playground (formerly Cloverdale Playground)
Address: Cloverdale Park
Description:
For the past 60 years, Cloverdale Recreation Center has served as a staple of support in west Baltimore for ages 7-75. Ernest's team wishes to create a mural that expresses the joy that the game of basketball can bring to a community.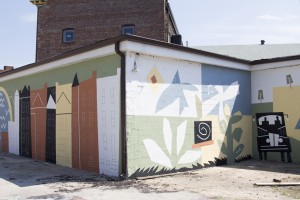 Lead Artist: Gary Mullen
Artist Assistant: Liz Angellatta
Youth Artist Apprentices:
Sera, Anthony, Tyshay, Zoe, Heavenscent, Tyon, Justin, Jerome, Cameron, Daria
Mural Title: Whitelock
Address: Tune Up City, 701 Whitelock Street
Description:
The mural depicts the beautiful community of Reservoir Hill in the early days. The artist came up with the design using input from the community and the building owners. History, music, and the image of an old car were used to help communicate the different uses of the Tune Up City building.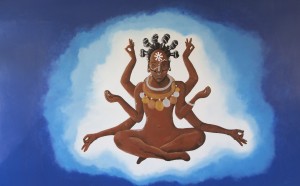 Lead Artist: S. Rasheem
Artist Assistant: Melku Tafari & Emma Derr
Youth Artist Apprentices:
Audacious, Akia, Jade, Kaiylah, Shydi, Makayla, Djariatou, Kennedy, Antoine, Chyna, D'juane
Mural Title: Dark Matter
Address: 2524 Brookfield Ave
Description:
The mural depicts a combination of African American culture, sci-fi, fantasy, and mysticism that reimagines Black artists in the future. It celebrates artists as creators, keepers, and innovators of culture.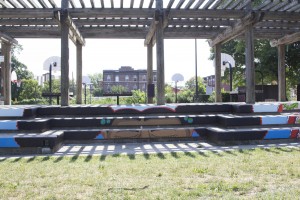 Lead Artist: Julie Horton
Artist Assistant: Jache Haynie
Youth Artist Apprentices:
Moenira, Janiya, Katia, Rel, Kailah, Ro'Shay, Isaiah, Kathleen, Deondre, Ja'Riya, Avery
Mural Title: Break Through
Address: German Park, 2411 Linden Ave
Description:
The Break Through mural is inspired by the sentiments of many Reservoir Hill neighbors. It depicts symbols of youth, potential, inspiration, hope, love, and growth. At certain points of the mural, the design shows a crack and breaks open – only to reveal more beauty beyond the layer. Like a tree that grows from a vacant building, the greenery that surrounds our mural is an ode to the ideas of good, life, and new growth. Nature, like love, always finds a way.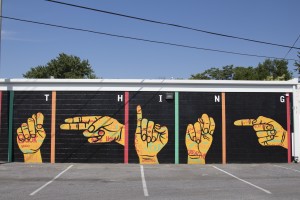 Lead Artist: Iandry Randriamandroso
Artist Assistant: Giulia Livi
Youth Artist Apprentices:
Gabrielle, Shannon, Brianna, Myiesha, Ja'kai, N'Kaiya, Maya, Takiya, Kharlee
Mural Title: Talking Hands
Address: The Book Thing, 3001 Vineyard Lane
Description:
This mural represents the many sentiments expressed from local residents during community interviews. The artists also wanted to promote The Book Thing of Baltimore, an organization that allows people to receive free books to further their knowledge and education. In the design, they used letters from the American Sign Language alphabet to spell out the words "BOOK THING" and utilized the palms of the hands as a vehicle to share key themes from their community conversations with mural viewers.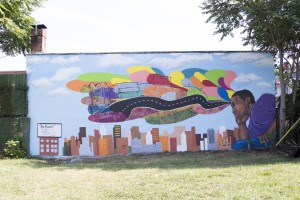 Lead Artist: Latoya Peoples
Artist Assistant: Jerome Chester
Youth Artist Apprentices:
Zaniya, Chielota, Desiree, Te'Shaun, Tamera, Hunter, Skyler, Keyona, Niasjia
Mural Title: The Dreamer
Address: Waverly Ace Hardware, 601 Homestead Street
Description:
The mural depicts a youth in deep contemplation about the Waverly neighborhood. His thoughts are represented by colorful shapes, where scenes of Waverly through time are superimposed. The mural shows some of the rich history of Old Victorian Waverly on the left, a transition through to the present, and a road leading to a bright future!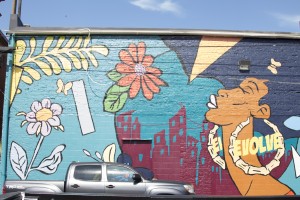 Lead Artist: Megan Lewis
Artist Assistant: Kenneth Clemons
Youth Artist Apprentices: 
Ayana, Aiden, Shakell, Joanna, Uriah, Keara, Kamera Deasia, Damira, Amari, Keira
Mural Title: Learn, Grow. Evolve.
Address: Rite Aid, 3198 Old York Road
Description: While gathering information from the community, residents talked about the past, present, and future of Waverly. Community members commented about witnessing change, but wanted to see more. The artists determined that in order to see change you must evolve. In order to evolve, you must learn and grow. A Black woman is depicted as the narrator that represents the comforter and healer. She is leading the way, as she carries the culture of her community and wears it proudly. Follow her lead and evolve.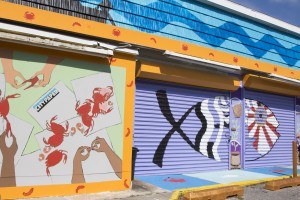 Lead Artist: Mike Thomas
Artist Assistants: Najee Haynes-Follins & Jimmy Li
Youth Artist Apprentices:
Lyric, Kalissa, Jasmine, Alia, Joe, Keyanna, Aaron, Jennifer, Desney, Ashley, Nathaniel
Mural Title: Waverly Crab House
Address: Waverly Crab House, 3400 Greenmount Ave
Description:
Designed to support an important and thriving business in Waverly, the mural features colorful, eye-catching images of crabs, fish and shrimp, all sold at the Waverly Crab House's business.
2016 Projects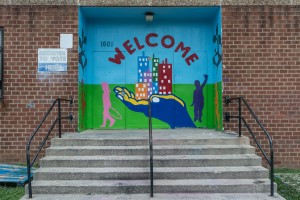 Community Partners
Better Waverly Community Organization
BrioxyReservoir Hill Improvemen t Council
Waverly Improvement Association
Waverly Main Streets
Lead Sponsors
Ace Hardware
Baltimore City Department of Housing and Community Development
Baltimore City Dept. of Planning's INSPIRE Program
Baltimore Development Corporation
Central Baltimore's Partnerships' HCPI Spruce Up Grants
France-Merrick Foundation
Johns Hopkins University
Laurlene Straughn Pratt Foundation
Maryland Department of Housing and Community Development
Morton K & Jane Blaustein Foundation
The Abell Foundation
Supporting Sponsors
Baltimore City Department of General Services
Barty and Clia Carr
Giant Food
Healthy Neighborhoods
Lowe's
The Home Depot
St. John's Episcopal Church
University of Baltimore
Programming Partners and Stakeholders
Baltimore CASH Campaign
Baltimore City Summer Food Service Program
Baltimore City Department of Recreation and Parks
Baltimore City Department of Public Works
Baltimore Community Toolbank
Dew More Baltimore
Family League of Baltimore
GLSEN Baltimore
HIBRED Workforce Solutions
Invisible Majority
Mayor's Office of Employment Development
No Boundaries Coalition
Rite Aid
The Book Thing
Tune Up City
Waverly Crabs
Youth as Resources
Photography by  Samantha Selby & Nate Larson
Art @ Work 2017, photos by Nate Larson, mural photos by Sam Shelby