Deck The Walls

We still have art for sale! See something you like? Email us at: info@jubileeartsbaltimore.org
Artist, titles and prices are listed below.
B: Nether, No Frontiers, $850
C: Dalvin Byron, Simplified Memory, $40 or best offer
D: Suzy Kopf, Philly Cheese Steak, $300 or best offer
E: Loring Cornish, War Is Over, $300
F: Amelia Carroll, Lithograph with Chine Colle on Paper, $90 or best offer
G: Patricia Tamariz, Inner Peace, $80 or best offer
H: Peter Bruun, Self Portrait $50 each or 3 for $100
I: Akia Jones, Wolf, $90 or best offer
J:Renee Lewis, Rihanna, $65 or best offer
K: Tiffany Jones, photo 1, $35 or best offer
L: Tiffany Jones, photo 2, $35 or best offer
M: Roland Park School Student, Elephant $25 or best offer
N: Shana Goetsch, Explorations with Glitter, $25
P: Barbara Combs, The Blues, $200 or best offer
S: Roland Park, Shadow Boxes, 1 for $30, 4 for $90 OR best offer
U: Nether, From Middle East to Eager Park, $850
V: Helen Pannes, Light House, $60 or best offer
X. Mateo Blu, Emotionally Blu. $55 of best offer
We are excited to announce the 4th annual Deck The Walls art sale and brunch fundraiser at Jubilee Arts 

Saturday, November 12th, 11a-2:00pm

!
DECK THE WALLS
Enjoy a tasty brunch while browsing incredible artworks from professional artists, Jubilee Arts participants and several local elementary and high school art students.
Advance Tickets: 1 for $20 or 2 for $25
At the door Tickets: $25
Mosaic + Munch Tickets: $45
New This year! Mosaic + Munch: Join the Youth In Business members for a mosaic making lesson and create your own mosaic mirror or flower pot at the event! We'll have all of the supplies ready for you, just come ready to make some art! Ticket includes entrance to Deck The Walls, brunch and one raffle ticket.
Live Music from the Todd Marcus Jazz Trio
Raffle & Silent auction:
Tickets and gifts cards to: Brio Tuscan Grille, Landmark Cinemas, Pratt Street Ale House, Cheesecake Factory, Lebanese Taverna, Medieval Times, Artist Craftsman Supply, Maryland Science Center, B&O Railroad Museum, The National Great Blacks In Wax Museum and The American Visionary Art Museum!
Brunch Menu:
Breakfast potatoes, french toast, mixed vegetables, sausage, omelet station, fruit and yogurt parfaits!
WHY SUPPORT DECK THE WALLS?
Proceeds from Deck The Walls will provide scholarships for aspiring young artist to further enhance their creative skills by participating in Jubilee Art's dynamic arts programs and projects. Our goal is to raise scholarships that will provide 40 students the opportunity to participate in one full year of arts classes valued at $105 per scholarship. We welcome you to join us on our mission to provide a positive and uplifting environment for our youth living in the Sandtown-Winchester, Upton, and surrounding neighborhoods. To find out how you can be involved visit us at jubileeartsbaltimore.org or follow us on Twitter or Instagram: @jubileearts1.
 Deck The Walls Art Preview!
See something you like? Come to Deck The Walls and purchase one of a kind artwork! 
2016 Sponsors:
Call For Art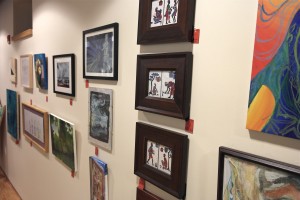 Primary/Secondary School Art Submission Guidelines:
We are inviting the budding artists in your school or after school program to submit artwork for Deck The Walls exhibition to support Jubilee Arts. All artwork on view will be for sale, but students can decide if 100% of the proceeds will benefit Jubilee Arts programming or if they want to split it 50/50. This is a really fun event that everyone can enjoy! **We can provide paper and some basic supplies for artists under 17 if your budget is limited. Deadline for young submissions is Monday, November 7.
1. Students may use any materials as long as the artwork is original and unique.
2. The size of each work should range from 8×10 to 11×14. Sculpture will be considered, but because of space constraints we cannot guarantee it will be included in the exhibition.
3. Each artwork must have a artist information sheet attached to their artwork by the time of delivery. All artwork should be dropped off at Jubilee Arts not later than Mon, Nov. 7th bewteen 10a-7p.
4. Students can determine what percentage of sales goes towards Jubilee fundraising between 50 or 100%.
5. Prizes will be determined by the day of the exhibition and awarded at the event.
Professional Artist submission Guidelines:
Please consider supporting Jubilee Arts by donating prints (preferably framed), photographs and/or any ceramic work either 50% or in full to this year's event. This donation is tax-deductible and in doing so, you'll be playing an important role in helping to ensure that Jubilee Arts can continue to be a catalyst for social change, using art as a tool for empowerment, community building, learning our history and changing our future. Works that are most likely to sell at this event can be sold for under $100.
Willing to donate?
Deadline: Submissions must be dropped off at Jubilee Arts no later than 
Monday, November 7, 2015
To participate as a sponsor:
Email: ToddMarcus@intersectionofchange.org. Sponsorships this year will include exposure and acknowledgement to over 600 event guests (at four separate fall events), thousands of additional supporters and partners, and extensive media promotions as Intersection of Change celebrates the  20th anniversary of its community development work that entails its Martha's Place and Jubilee Arts programs.