If you want it, it's already yours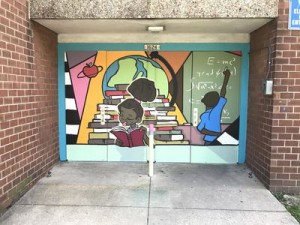 There are many murals scattered around Baltimore, but once you've seen one of Megan Lewis's works, you'll be able to recognize her art. Lewis is a native to Baltimore, a professional illustrator and freelance artist with a unique style. She creates art that portrays social, historical and cultural issues through her own lens.
Lewis focuses much of her mural content on celebrating Black women. Her most recent mural is at Eutaw-Marshburn Elementary school on Eutaw Place. The vibrant mural displays an engaging school scene.
"Before the students stepped inside the school, I wanted them to be visually boosted with a self-reflecting, inspiring and colorful image," said Lewis.
She wanted them to know that if they want something and have the right outlook on it, they can achieve it. Hence, the title: If you want it, it's already yours.
Four youths, Tamyaja Johnson, Kristian Tyson, Taliayah Thorne, and  Ka'Nyrah Wilson helped Lewis paint the mural, which was funded by the T. Rowe Price Foundation.
Lewis's next mural will be with Jubilee Art's Art@Work program – stay tuned for the beautiful artwork to come!
Follow Megan Lewis on her website meganlewis1Illustrator.com or on her social media:
Instagram: urbanhipsta
Facebook: megan.lewis1
Twitter: urbanhipsta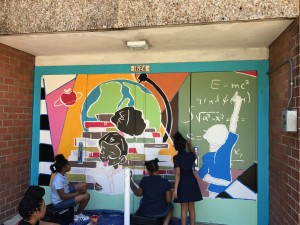 Liked this post? Follow this blog to get more.